LiverpoolFC
i got this from my mail.. their promotions for wedding in Anfield.. can u imagine???.. I really want it.. uh.. but.. dreaming la u nadia.. hoping n wishing..
here.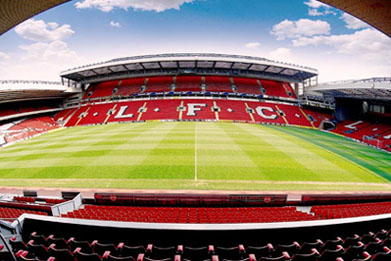 #Anfield.
news :
Reds move one step closer to new stadium, Building is expected to start on the new stadium in the spring of 2005 with plans to open its doors in 2007, set to retain the Anfield name
I dont know y i'm sOo excited with Liverpool, i think since i'm 12 years old. All my dream about Liverpool, watch live match in Anfield, meet the players, honeymoon in Liverpool, and now.. can it will be the wedding? ahahaha.. only my dream.. and i wish i i wish i could.And also really want to visit Melwood, their training base since the days of Shankly, very long time huh? i think shankly in Liverpool around 1959-1974.
#Melwood
Liverpool.. Liverpool...first game I know, I think when still Roy Evans still be the manager, and then ,after that 1998 Gerard Houllier turn, and now Rafa , Rafael Benitez.Aha, I mostly in Gerard ages. Still remember.. that time players
are Steve Mcmanaman, Robbie Fowler , Paul
Ince and others , that player in 90's . Memorable
thing , i remember in 00/01 ., when had managed to win three cups in one year, FA cups, Worthington Cup and also UEFA Cup, an unprecedented cup treble.
#
3 cups in 1 season, really awesome!
2004/2005 season many changes in liverpool squad with new manager... Rafael Benitez ... new players.. Luis Garcia, Djibril Cisse,Xabi Alonso,Gonzalez Josemi and now in january windows, their try to bid
Fernando Morientes . Maybe Anelka, A johnson in inquire, Cesar, Pennant, dunno exactly, well we wait and see. Liverpool need more strikers, yeah.. after many of their strikers had
injured
, hopefully after mid season more improvement we can see. This year i think at least 4th place please, after many things happen, with new team,new manager, and new nick :p many people called "

Spanish Era

".
Wutever..
"
You'll Never Walk Alone
"