welcome 2Oo5, A new year begins..
so.. couple days in new year, Its time to prepare for a brand new year, decisions to make, resolutions to stick to and loads of exciting possibilities to look forward to.Well, it's that time of year again. Time to take stock of our lives, set some new goals, and make those often abandoned New Year Resolutions.New Year's Eve has always been a time for looking back to the past, and more importantly, forward to the coming year. It's a time to reflect on the changes we want (or need) to make and resolve to follow through on those changes. New year's resolutions are something we all make but few of us stick to, including me.. ahahaha.. so.. what ur 2005's resolutions? have any?
for me..
Loss some weight

Become more organized

Become a better person

better result in my studies

and many reasons too if u ask peoples about their resolutions :
Making resolutions are an untter waste of time!
or
Haven't started one yet because i'll probably not fulfil it!




So? its up to you people.. for me, it just to makes everything brand new.. to start a new year with few goals, and hopefully i will fulfil it until the end of year
.
Hopefully its gonna be a really good year for me, bless with so much love, kindness and goodness around me with u all people!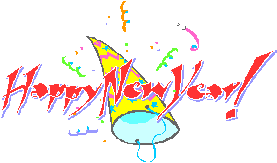 "New Year's is the only holiday that celebrates the passage of time. Perhaps that's why,
as the final seconds of the year tick away, we become introspective. Inevitably, that
introspection turns to thoughts of self-improvement and the annual ritual of making
resolutions, which offer the first of many important tools for remaking ourselves!"
- Gary Ryan Blair-