SMYC Part 1
yeay! i'm back.. miss bloggy thing ... hehe.. long 2 weeks vacation .. could i say vacation? or course? wuteva...
so i was selected for international youth exchange.. and my name under SMYC (Singapore Malaysia Youth Camp). The youth camp is a joint project between the National Youth Council, S'pore and the M'sia Ministry of Youth and Sports. The camp aims to promote friendship and mutual understanding between the youths of the two countries.
our Malaysian contingent had pre departure training for five days, before the real SMYC, so they teach us how to dance.. sing.. everything about culture..here we meet as Malaysian ..so the dance part the most difficult for me.. i never dance since primary school .. its funny when i was totally gave up at one time.. yes.. i decided to go home.. wah.. how susah it was ? but luckily i was selected for "joget" not zapin.. zapin susah seh.. mari hapuskan dier.. hehe .. yes still can do it.. but not for whole tape, 5 minutes dance.. can't remember steps.. but more lucky if you not selected as a dancer at all.. aih.. so.. i'm joget girl hehe perempuan karberet neih.. still remember how cikgu saiful auw scold me.. aih.. thanks for the dance lesson .. and i can dance rupenye.. haih.. me and my beloved partner.. Baghitaran.. he really cute while dance.. cool dude.. mcm dlm tamil film aku nieh.. menari with Bagi.. aiyaa amma.. hehe
We are Malaysian
//pre departure training ( baju menari kami )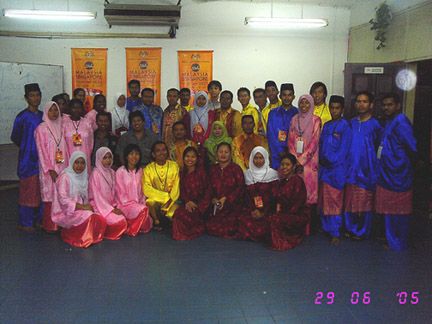 30th june- We arrived at NACLI ( National Community Leadership Inst.) at Buona Vista. Singaporean contigent.. u all really rawks! for first time we meet, everyone really cool.. cheers us.. helping with our goods.. so we were goin for hippo tour that evenin, tour city, and also Sentosa Island.. and magical fountain show, bugis street.. all with our hippo.. nak patah kaki sey.. :p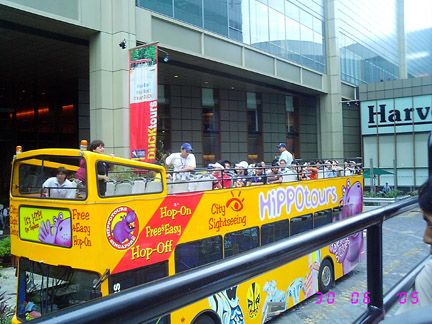 second day at NACLI , early morning we were visited HDB Hub, house developer for Singaporean. Interesting when we know how HDB flet look like.. the term .. and Singaporean lifestyle.. and after that... again.. tour :p but.. this time.. duck tour.. cool.. but i prefer hippo.. duck so slow la.. from land to river.. and nite.. we "dipaksa" for performance .. arggh.. by room.. so.. hehe my roomie.. me, geetha, crystal and rashidah.. perform a simple or "mengarut" acting ahaha.. me as princess pearl.. actually my line too short.. so.. i decided to add some more.. with singing..wit soprano voice.. ahaha... actually i donno wut i'm doing.. ahaha until now.. everyone make fun of it.. i cannot throw that away la...shuuuhhh... how can i do that?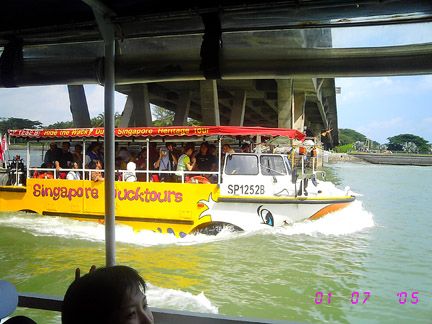 how many times u visiting singapore..1? 2? 3? or timesssssssssssss but its not the same ..really.. awesome 10 days !!!!
cause this time, u represent Malaysia.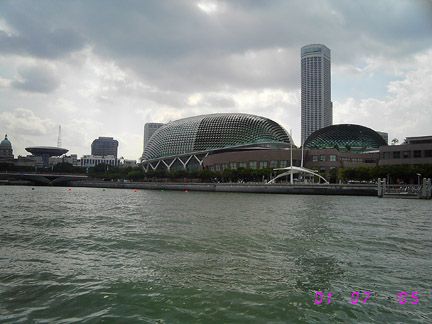 to be continue.....
(my experience in OBS, Pulau Ubin for 4 days. island.. wah scary.. but singapore ? hehe) it gonna continue a lot of entries ya.. i hope u will not getting bored to read mine. but.. it still my blog rite? sukati la.. hehe..